Ah yes the first cliche post for InkSplatterDraw is here. But it's 2015 now so we have big plans for this little blog this year.
(The main one being for us to keep up our blogging momentum for the whole year! Come on Kayla!!)
How was everyone's Christmas? Mine was filled with delicious food (aka perfect). So while in a Christmas food induces stupor I
came up with a couple of goals I wanted to have this year, and not surprisingly a lot of them were for this blog.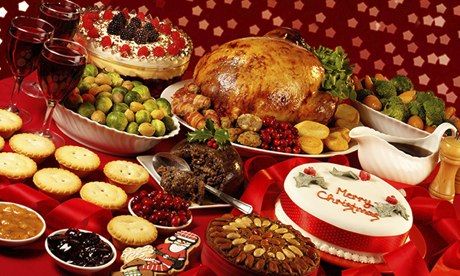 I ate all this! ... Okay I didn't but I would have damn well tried
So here's my little list of goals this year:
To seriously up my blogging game (starting right now!)

Attend a lot more gallery / exhibitions.
Sort out all that social media malarkey that's been driving me up the wall.
Pass my beauty course, ideally with a merit or distinction.
Now for the fun part:
Lets look back over 2014 on InkSplatterDraw.
I warn you that there are a lot of unfinished projects, but I would like to pick some of them back up this year and really try and stick at things.
January - Creating handmade cards where really important to me
Getting back into the swing of making handmade cards is another little goal I would like to fulfill this year and I'm pretty sure that Kayla wants to keep up her quilling talent.
February - Quilling came to InkSplatterDraw
March - Jellyfish drawings joined our blog, and the sketchbook series took off.

April - Kayla had some great framing ideas
May - We visited the degree show from UCA Farnham and the first 'OurHumbleOpinion' post was uploaded.
I am really hoping to write an 'OurHumbleOpinion' post each month this year starting with a gallery visit Kayla and I have planned later in January.
June - Kayla's Spirograph is top notch.






July - Emma is pretty good at working in chaos
August - Emma attempted an origami ostrich.
As if knowing that I wished I kept up my origami making this year I got a wonderful Christmas present of an origami calender this year, so one origami a day can't be too hard can it?? I'm planning on putting them on my instagram each day too.
September - Kayla started these beautiful script quotes ( I want her to quill them so badly)
October - Lunchtime doodles at work.
Unfortunately that's where the InkSplatterDraw year ends as both myself and Kayla found ourselves running low on time and motivation for the blog, we decided to take a break which ended up being a two month break but we both agreed that having a fresh start for the new year would give us a boost to make it through the whole year.
This is also why a lot of our 'regular' posts are going to stay but we are going to be less strict with ourselves as forcing enough sketchbook drawings for a post each week works to start with but annoyingly our work lives kept getting in the way. Basically 2015 is going to be new more realistic blogging from Myself and Kayla.

Anyway hope you've enjoyed the little round-up of posts and that you have all made some small goals for yourselves this year and that you've all had a lovely Christmas.
October - Lunchtime Drawing